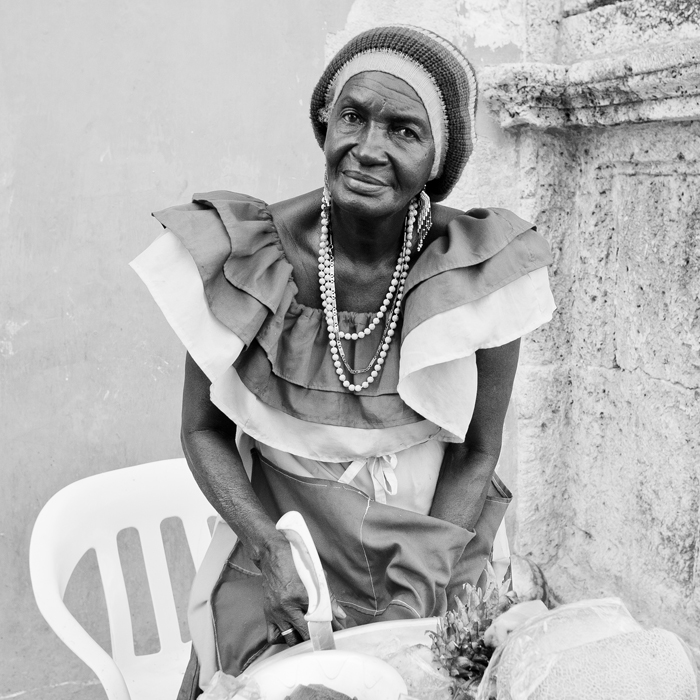 Cartagena Palenquera
A Palenquera woman selling fruit in a plaza in Cartagena, Colombia.
Bar Doorman in White Cape and Hat
A young man standing in the doorway of a bar in Cartagena, Colombia wearing a white suit, cape and hat.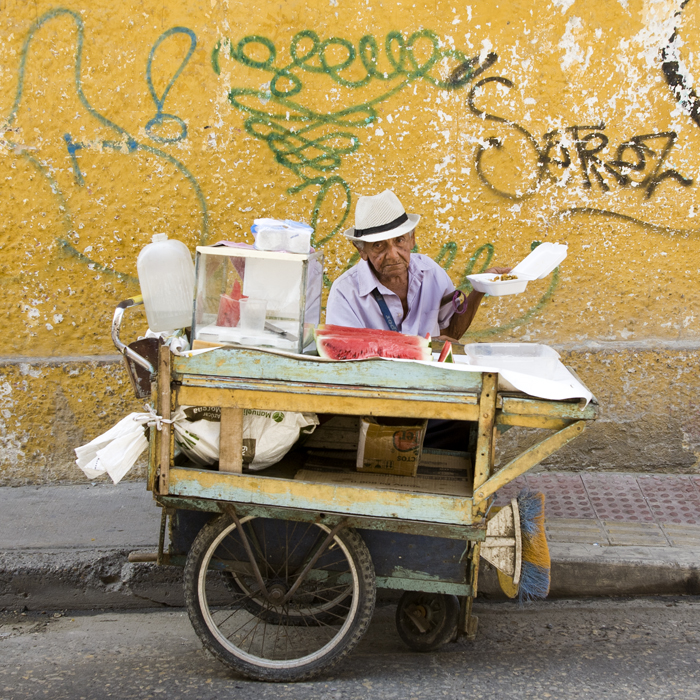 Colombian Watemelon Vendor
An old man sitting behind a run-down cart selling watermelon in Cartagena, Colombia.
Solimar
A Colombian woman in Baru working as a cook at a restaurant.
Nathalie
The back of a young girl in a bikini top and shorts wading in shallow blue water and holding her sandals in Baru, Colombia.
Hat Vendor
A young man selling hats near the Reloj Publico in Cartagena, Colombia.
Coastal Colombian Lunch
A typical Colombian lunch on the coast made up of patacones, arroz con coco, fried fish and salad.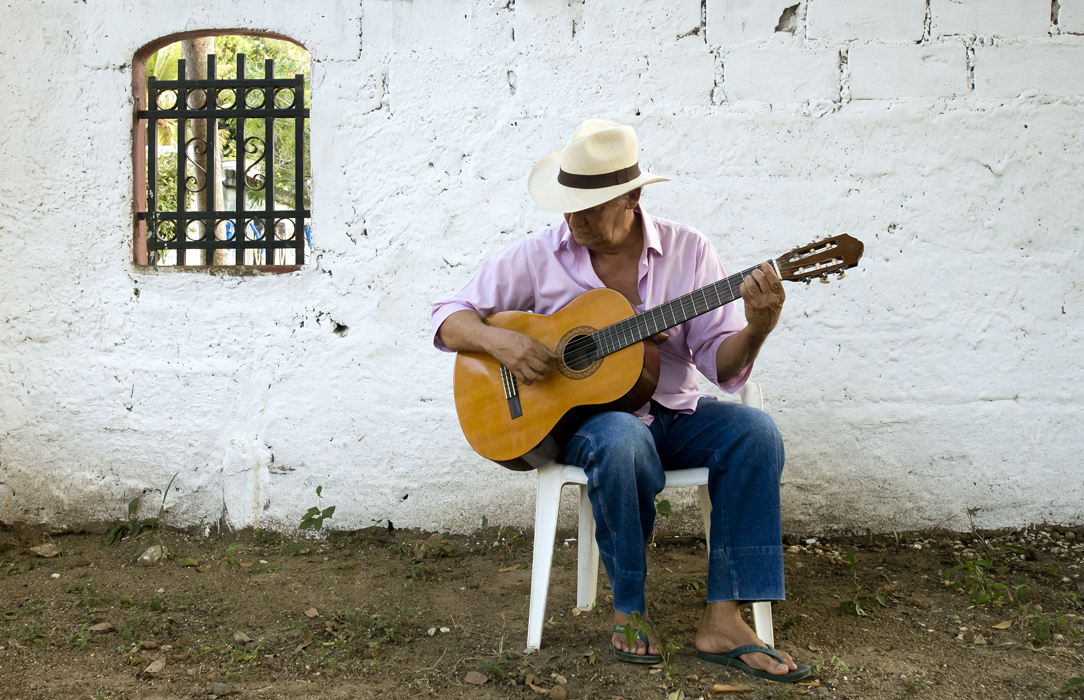 Colombian Guitarist
An older man in a hat, pink shirt and jeans sitting and playing his Spanish guitar in Turbaco, Colombia.
Fast Forward Japan
A feature story in the Four Seasons Hotel magazine about Tokyo hot spots.
Miyajima Rikisha Driver
Togo Flea Market
An editorial about popular flea markets in Asia featured in the Four Seasons Hotel magazine, photo taken at Togo Jinja in Harajuku, Tokyo, Japan.
Tokyo Yatai
Two women eating at an outdoor food stand (yatai) seving raamen and oden in Shinjuku, Tokyo, Japan.
Sushi Chef in Tokyo, Japan
The cover of the Four Seasons Hotel magazine featuring a sushi chef in motion behind a sushi bar in Tokyo, Japan.
The Great Wall of China
A black and white aerial view of the the Great Wall of China.
Mongolian Couple
A nomadic Mongolian couple inside their yurt (or ger) wearing traditional Mongolian dress.
Mongolian Nomad
A Mongolian nomadic man tending to his sheep, goats and other animals.
Mongolian Horse Keeper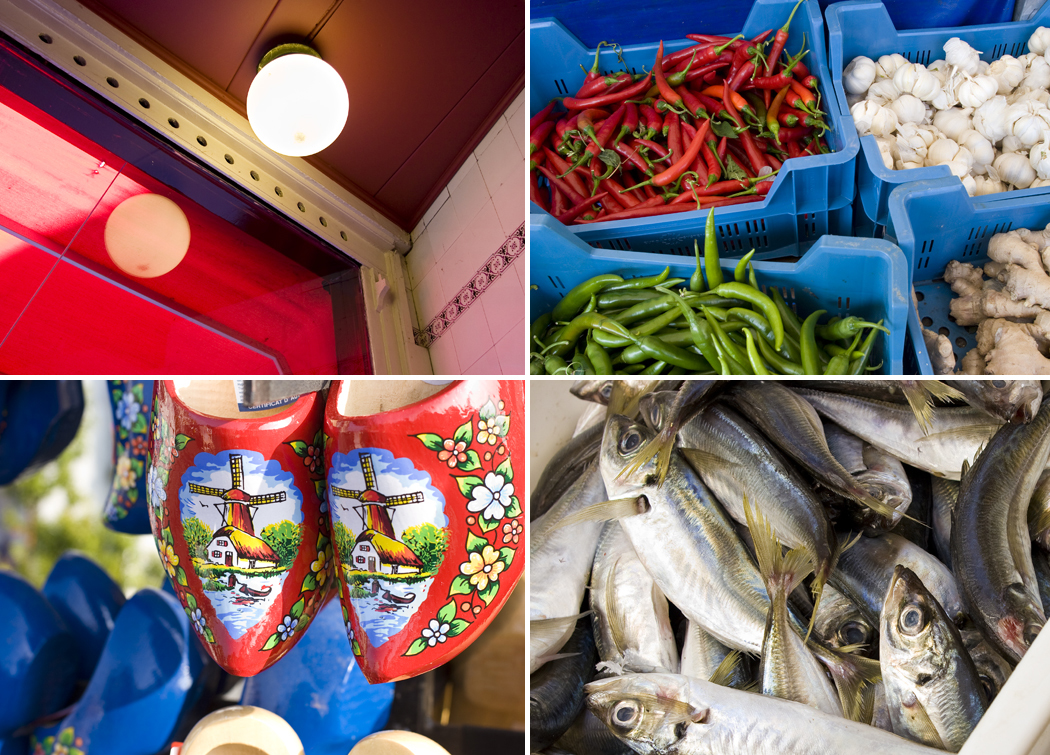 Leiden Food Market
Fish, vegetables, traditional dutch clogs at a food market near Leiden in the Netherlands
Amsterdam Book Shop
Amsterdam Vintage Shop
Cyclist in Bruges
Dutch Mailbox and Poster
Leiden Street Sign
Rain in Bruges Public Square
Leiden Cotton Candy Vendor
Paris Violin Busker
Apartment in Martel
Parisian Cafe and Moped
Parisian Street
A couple walking along a Parisian street on a cloudy, rainy day.
Parisian Accordian Player
An accordian player in Paris playing in the middle of the street.
French Green Shutters and Car
Le Marche Aux Puces Paris
Paris Coffee and Croissant
Rainy Parisian Street
An aerial view of people walking across a crosswalk and holding umbrellas on a rainy day in Paris.
Mona Lisa and Parisian Cafe
Parisian Cafe Menu
Window Facing the North Sea
Young Colombian Soldier
A young Colombian teenaged boy stands in front of the Colombian flag in his military uniform.
Young Colombian Cookie Seller
A young girl selling cookies to tourists at Las Islas de Rosario near Cartagena, Colombia.
Blue Boat House
A blue boat house and two small red boats along the water in Eastern Canada on a clear sunny day.
Green and Purple Wine Grapes
Peggy's Cove
Red Canoe at Lake Louise
Lunenburg, Nova Scotia
Colorful houses along the water in Lunenburg, Nova Scotia.